Green Foundation System Saves Builder One Week on Job Site
When builder Timothy Koontz decided to have a Superior Walls® Xi™ panel foundation system installed in his latest home project, his research prepared him to expect product excellence. What he didn't expect was how much time he'd save by using the precast concrete system.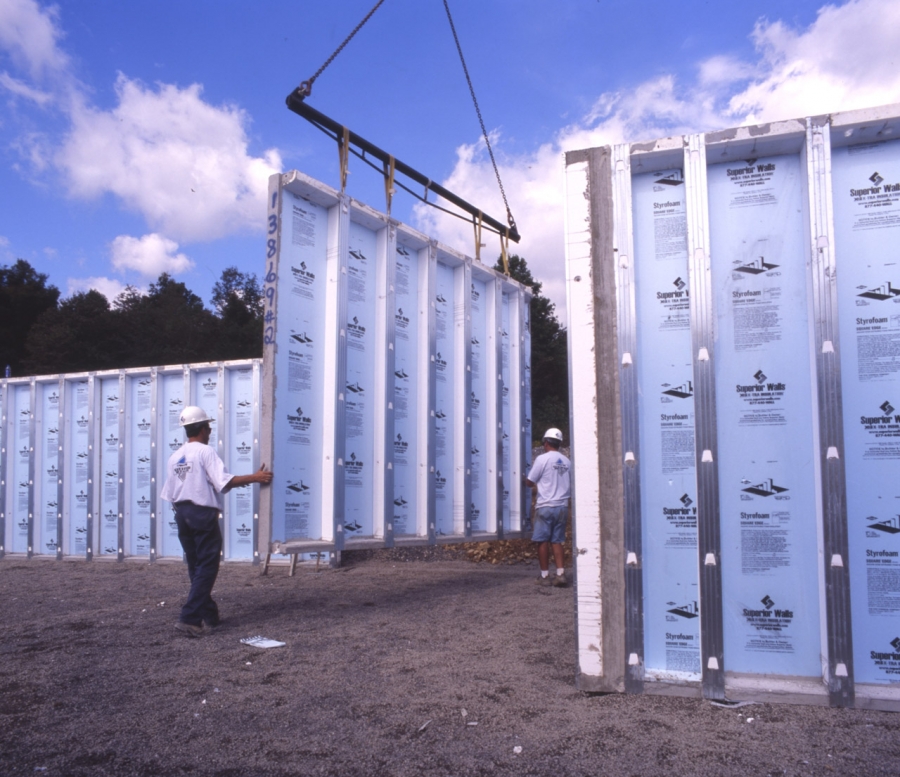 "We saved almost a week of time by starting the construction process using these custom-made prefabricated foundation walls," says Koontz, president of Dale Koontz Builder, Inc. out of Quincy, Illinois. "The crew from Superior Walls by Precast Concrete Solutions installed the entire foundation in about six hours. That saved time translates to money in our pockets with the extra bonus that we're using a more environmentally friendly product than we have in the past."
The energy-efficient Xi wall systems have earned a Green Approved Product designation from the National Association of Home Builders (NAHB) Research Center. By using the Superior Walls product, Koontz earned 13 points on his home project toward National Green Building Certification.
"This is the first NAHB-certified green home constructed in Adams County," says Koontz. "I spent almost a year researching the Superior Walls product to make certain it was a strong match for my project.
"The feedback and research I did convinced me that these foundation walls would make my final product better," Koontz says. "I like the fact that the entire basement is insulated, that the basement outside walls were immediately ready for drywall, and that the company offers such a strong warranty. I'm anxious to use this product again and I believe my custom home clients will add it to their 'want list' for future projects."
Koontz, who is the first certified green professional in Adams County, built the NAHB Certified Green spec house in Quincy using a passive radon system, an energy-efficient furnace, low-flow toilets, and WaterSense® faucets.
"In the 38 years since my father started this business there has been an abundance of changes in the housing industry," says Koontz. "I believe the focus on green products and systems is one of the smartest advances our industry has ever made. And with products and services offered by companies like Superior Walls by Precast Concrete Solutions, I can see the absolute value that these types of products bring to homeowners."
Superior Walls foundations systems are resource-efficient, using up to 70% less concrete in a new home than conventional foundations. Stud facings eliminate the need for additional wood framing prior to interior finishing. Using fewer materials helps reduce the carbon footprint of the new home's construction process.
For more information on Dale Koontz Builder, Inc., visit www.koontzbuilder.com. Additional details on Superior Walls by Precast Concrete Solutions, an authorized dealer of Superior Walls located in Springfield, Illinois, can be found at www.superiorwalls.com
.

Available nationwide through licensees in a variety of states, Superior Walls foundations have been installed since 1981 when the company introduced the original R-5 Superior Walls precast foundation system. Superior Walls products are the first and only foundation systems to have attained the Green Approved Product designation by the NAHB Research Center, earning builders points on a project toward a National Green Building Certification. The company is a member of the International Code Council and the US Green Building Council. For more information, call 1-800-452-9255 or visit www.superiorwalls.com
Website: www.superiorwalls.com
Latest from Superior Walls