Builder Starts 35 Green Homes with Superior Walls® Foundations
Natale Builders is serious about green construction. The 40-year old family-owned business is so dedicated to environmentally-friendly building practices that they are committed to constructing each of the 35 homes in their Rivera Greens development with energy-efficient precast concrete Xi™ panels from Superior Walls®.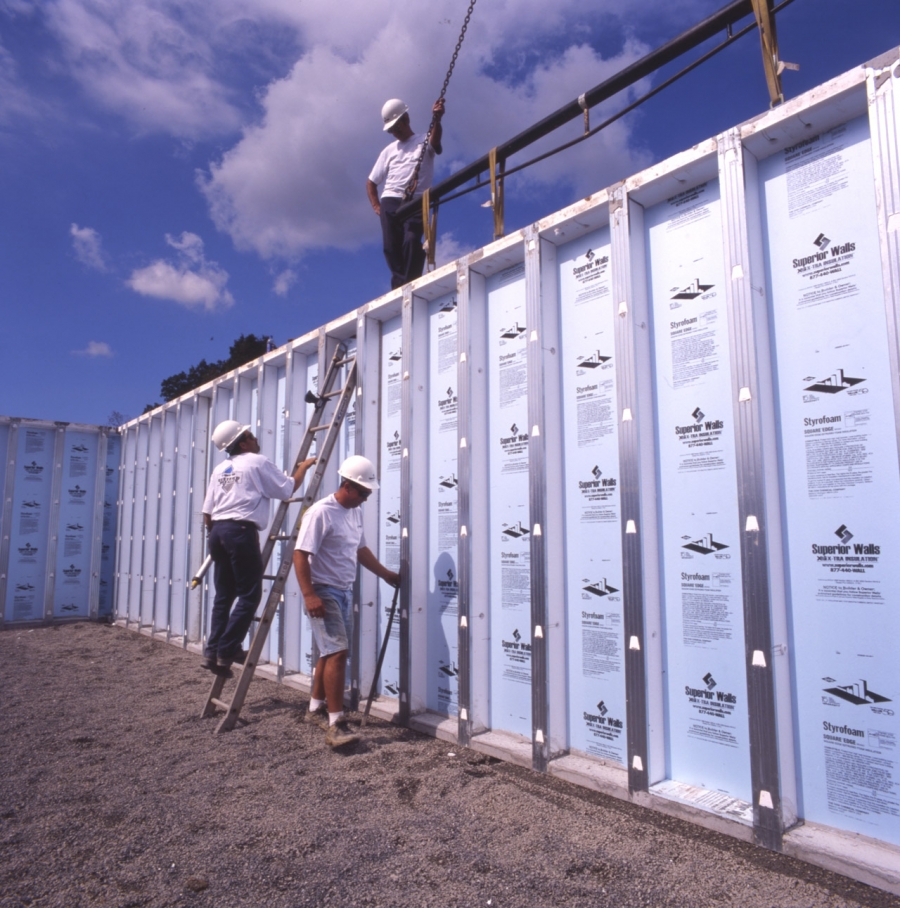 "We're building New York state's first green/net zero development at Rivera Greens," says Larry LaDuca with Natale Builders out of Clarence, New York. "This is the first development dedicated to conserving energy and green standards to this level in our state. We start off on the right foot with the home envelope constructed of a Superior Walls foundation and DOW® insulation.
"We did our research and determined that Superior Walls products are the complete solution to our building needs," LaDuca explains. "They're green, energy-efficient, and cost-effective for both us and for our clients."
LaDuca reports that the home designs and construction standards established by Natale Builders for Rivera Green in Clarence will help homeowners save an average of $3,000–$4,800 each year in energy bills. Homeowners may specify alternative energy sources for their homes including wind turbines, solar panels, and/or geothermal energy. The model home for the subdivision, built to Net Zero Specifications, is located at 1 Nicholas Lane in Lancaster, New York, and was open to the public in October 2011.
"Each home in this development begins with Xi precast panels to assure the homeowner of a dry, warm, and extremely energy-efficient foundation system," says LaDuca. "These Superior Walls systems match up perfectly with our green building goals." They are resource-efficient, using up to 70% less concrete in a new home than conventional foundations. Stud facings eliminate the need for additional wood framing prior to interior finishing. Using fewer materials helps reduce the carbon footprint of the new home's construction process.
For homeowners, the benefits of Superior Walls foundations systems are substantial. The energy-efficient walls help lower energy costs and reduce energy leakage while providing increased living space in a comfortable setting.
The top-of-the-line Xi wall panels feature steel-reinforced concrete and 2 1/2" of DOW® Styrofoam™ insulation to create a permanent barrier against sidewall water penetration. The panels are custom-designed and constructed in a factory-controlled setting. Unique features of the Xi wall panels include:
5,000+ psi concrete;

Horizontal steel rebar inside top and bottom beams;

Vertical steel rebar inside each stud;

Steel-reinforced top bond beams, concrete studs, and footer beams;

Access holes for ease in wiring and plumbing;

Galvanized steel stud facing ready for drywall finishing; and

Insulated corners, studs, and bond beams.
The Superior Walls insulated precast concrete wall systems have earned the Green Approved Product designation by the NAHB Research Center. Builders choosing to use Xi and R-5 foundations can earn up to 13 points on a project toward National Green Building Certification.
Additional green aspects of the Rivera Greens development include LED lighting throughout the home to reduce electric lighting consumption by up to 90%, low-flow plumbing and water-saving techniques, ENERGY STAR® rated appliances, cork flooring, an Amish-built kitchen, and recycled-content tile interiors. "Low-water needs" landscaping will be included for the exterior of each home with rain barrels to assist in the clean capture of rainfall. For more information on the project, visit www.riveragreens.com. For additional details on Superior Walls products, visit www.superiorwalls.com.

Available nationwide through licensees in a variety of states, Superior Walls foundations have been installed since 1981 when the company introduced the original R-5 Superior Walls precast foundation system. Superior Walls products are the first and only foundation systems to have attained the Green Approved Product designation by the NAHB Research Center, earning builders points on a project toward a National Green Building Certification. The company is a member of the International Code Council and the US Green Building Council. For more information, call 1-800-452-9255 or visit www.superiorwalls.com
Website: www.superiorwalls.com
Latest from Superior Walls