Pathway Homes Builds 55 Homes with Superior Walls® Foundations in 2012
In 2012, Michigan builder Gary Jurkovich's business celebrated its fifth year of constructing spec and custom homes. To celebrate his continued company growth, he plans to build 55 new homes – all with R-5 precast concrete foundations from Superior Walls®.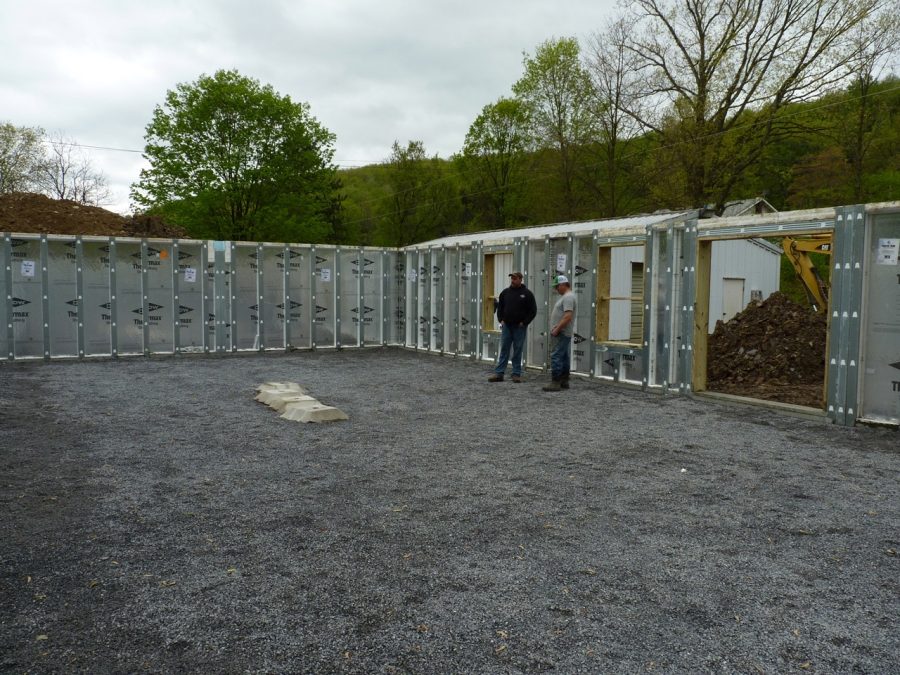 "We switched from poured concrete walls to precast wall panels a few years back because they are more energy-efficient and increase our cycle time," says Jurkovich, president of Pathway Homes. "We've constructed more than 40 homes in 2011 with these insulated foundation systems and our goal is to create at least 55 more homes with R-5 foundations in 2012."
The R-5 foundations installed by Jurkovich and his team are custom-created by Great Lakes Superior Walls out of Hamilton, Michigan. During the manufacturing process, a special high-strength, low-water concrete mix is used to ensure that the basements of Pathway Homes remain dry. Each wall panel is reinforced with steel rebar and polypropylene fibers for added strength. The wall panels include 1" of continuous DOW® insulation for year-round comfort and energy efficiency.
"The Superior Walls products help start off our projects with an energy-efficient foundation," says Jurkovich. "These walls are more aesthetically appealing both inside and outside than poured concrete, they're easier to finish, and they have customizable exteriors. Combine those features with the faster installation time and the built-in thermal breaks in the walls and we've got winning foundations for our homes."
For homeowners, the benefits of Superior Walls foundations systems are substantial. The energy-efficient walls help lower energy costs and reduce energy leakage while providing increased living space in a comfortable setting.
The R-5 Superior Walls insulated precast concrete wall systems used by Pathway Homes in Traverse City and Grand Rapids areas have earned the Green Approved Product designation from the National Association of Home Builders (NAHB) Research Center. Builders choosing to use Xi and R-5 foundations can earn up to 13 points on a project toward National Green Building Certification.
Green Approved Products Certificate #00071 provides builders the following points for the use of Superior Walls foundation systems:
Practice 601.2, 3 points – Structural systems/advanced framing techniques optimize material usage.

Practice 601.5 (1-3), 4 points – Precut/preassembled components, panelized, or precast assemblies are utilized for a minimum of 90% of floor, wall, and/or roof system.

Practice 607.1, 3 points – Products containing fewer materials are used to achieve the same end-use requirements as conventional products.

Practice 701.4.3.1 (1), Mandatory – Insulation is installed in accordance with the manufacturer's instructions or local code. Mandatory for certification.

Practice 903.2.2, 3 points – Capillary break is added on footing.
"We specialize in using cutting-edge technology to bring energy efficiency and sustainability features to all the homes we create," says Jurkovich. "Our homes are constructed to ENERGY STAR® certification standards. Using these Superior Walls foundations that so clearly add to the energy efficiency of the home is a definite benefit for our customers."
For additional details on Superior Walls products, visit www.superiorwalls.com or www.greatlakessuperiorwalls.com. For information on Pathway Homes, visit www.pathwayhomes.com.

Available nationwide through licensees in a variety of states, Superior Walls foundations have been installed since 1981 when the company introduced the original R-5 Superior Walls precast foundation system. Superior Walls products are the first and only foundation systems to have attained the Green Approved Product designation by the NAHB Research Center, earning builders points on a project toward a National Green Building Certification. The company is a member of the International Code Council and the US Green Building Council. For more information, call 1-800-452-9255 or visit www.superiorwalls.com
Website: www.superiorwalls.com
Latest from Superior Walls