Historic Preservation: From Carriage House to Pool House
Architect Tracy A. Stone's expertise in historic preservation guided her renovation of a 123-year-old carriage house near downtown Los Angeles.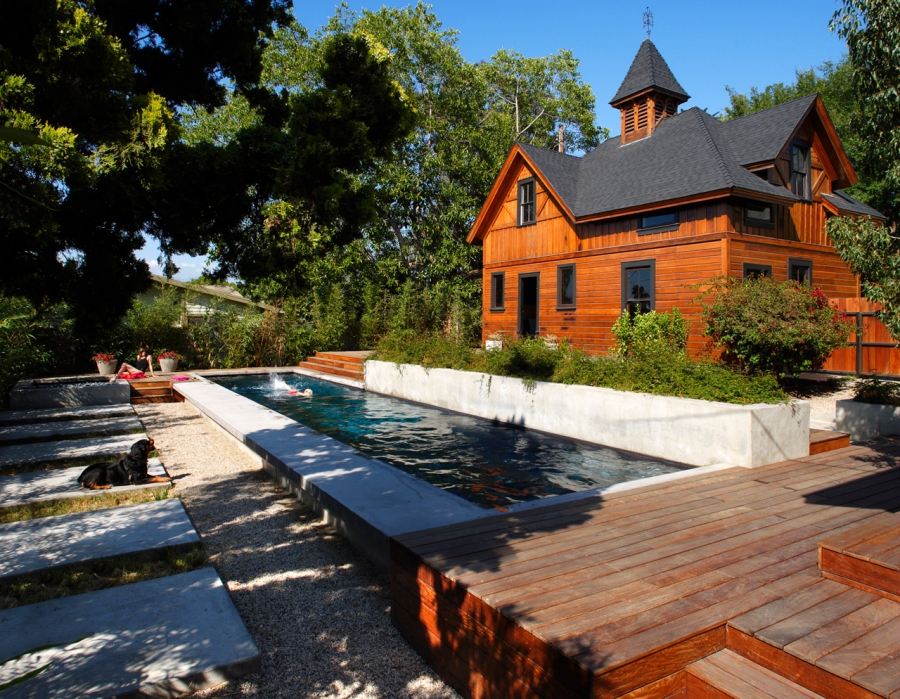 Los Angeles is known for its architecture, from stunning examples of Art Deco to Mid-Century Modern homes. A lesser-known jewel is the Angelino Heights neighborhood, located near downtown L.A., which boasts a small but well preserved collection of Victorian houses as well as their accessory structures. Architect Tracy A. Stone restored Angelino Heights' best remaining example of a carriage house, one that dates back to 1886 and has been designated a Historic Cultural Monument of the city.
---
Home Builders Resource Center
Brought to you in partnership with: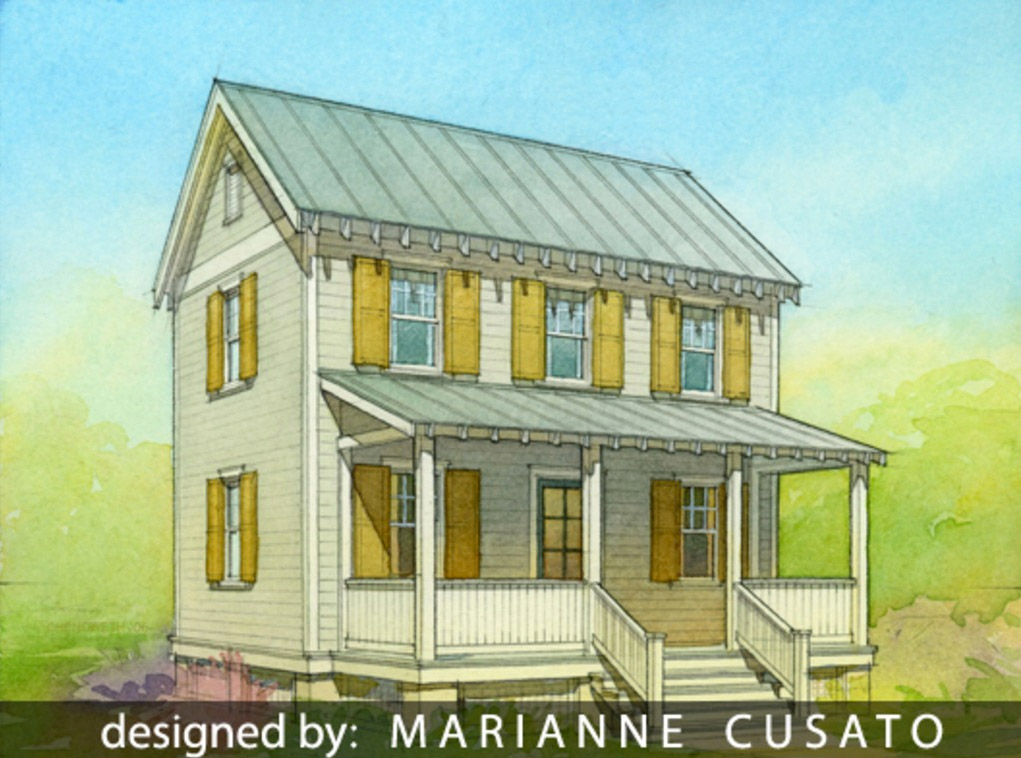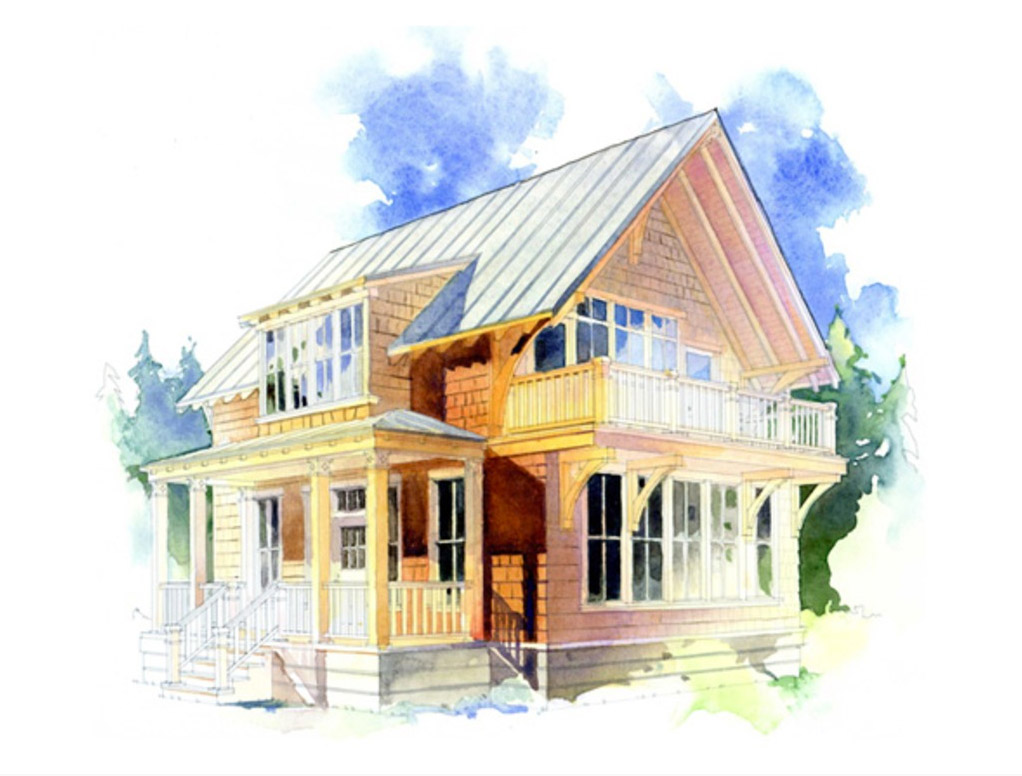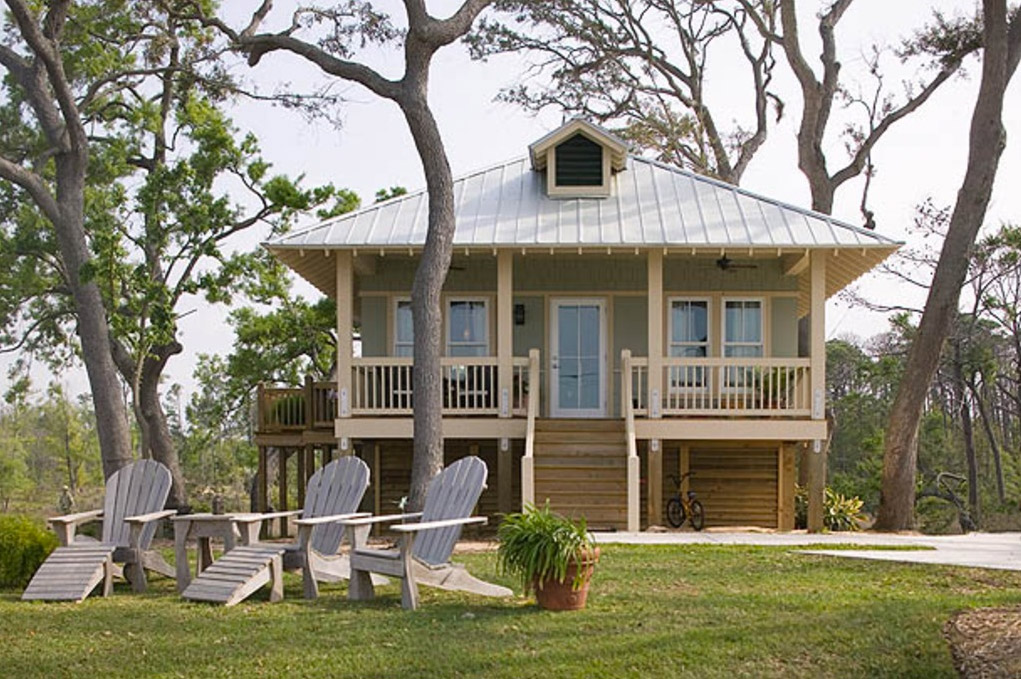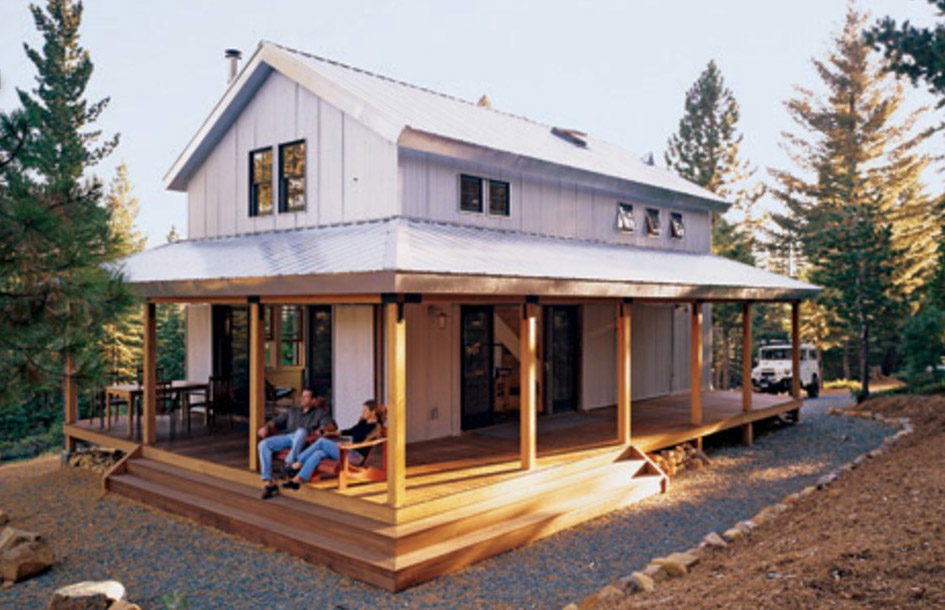 Browse these plans and others at
http://www.houseplans.com
.
---
Stone was very familiar with the neighborhood, as a former resident and volunteer member of the Angelino Heights Preservation Overlay Zone (HPOZ) Board. She was engaged by a developer to restore the carriage house, which had fallen into disrepair (although the main house had been renovated), and she was tasked with transforming it into a pool house and guest quarters, enhancing its historical features while updating it with modern comforts.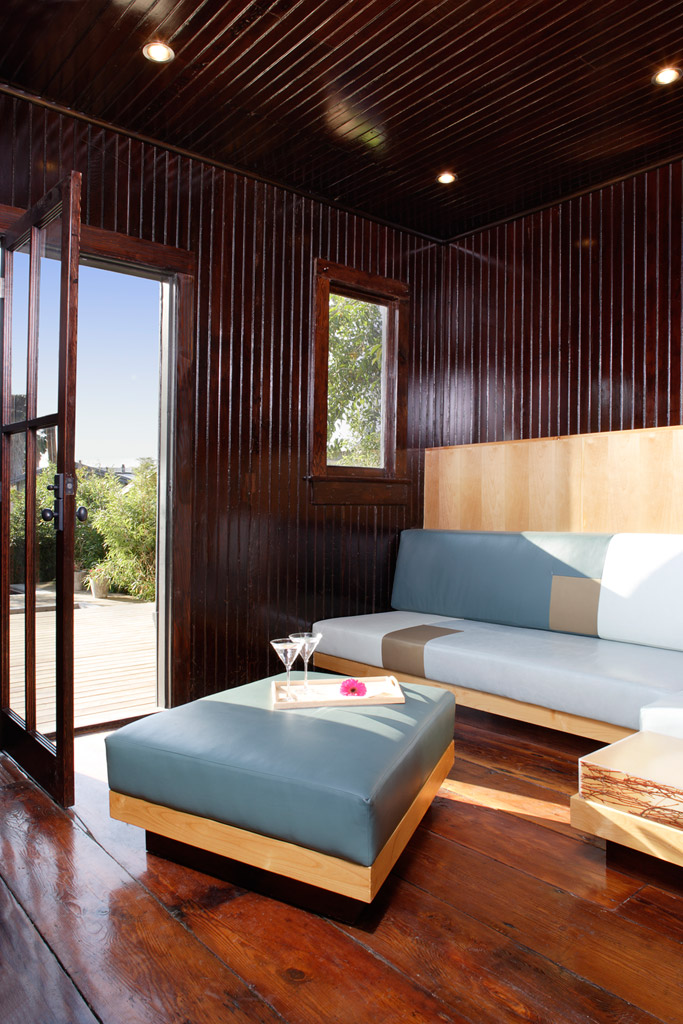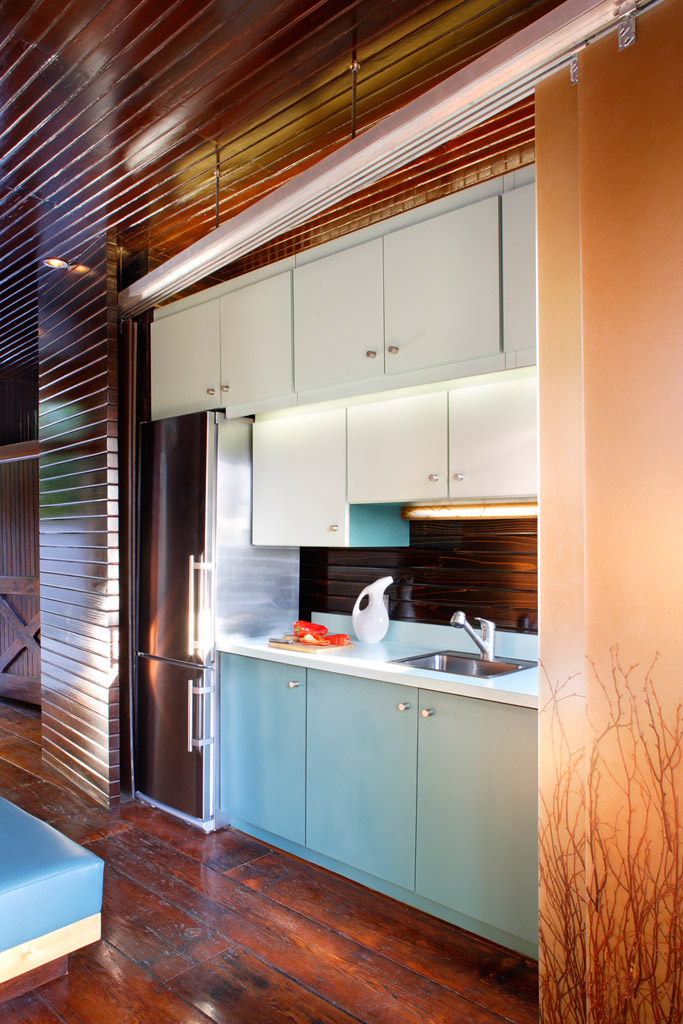 Altering a historic structure is not a process undertaken lightly in Angelino Heights, although it is one that Stone knows well from her tenure on the HPOZ Board. Color, she explains, is a "hot button issue" that is continually debated. Victorian-era carriage houses are typically painted several colors, distinguishing window sashes and casings as well as decorative shingles on the facades. However, the client wanted to strip the Douglas fir siding and restore the wood to its natural finish. The Board approved the change, reasoning that it could always be repainted at a later date.
While exterior changes face a high level of scrutiny, the interior portion of the renovation offered plenty of freedom for the architect. "Carriage houses are unique as architectural and historical buildings in Los Angeles because their original use no longer exists," notes Stone. Since they essentially served as storage rooms, carriage house interiors were never finished out and have little historic value. Still, Stone strived to preserve as many original elements as possible, stripping out more recent interventions (for example, the carriage house had previously been converted to guest quarters).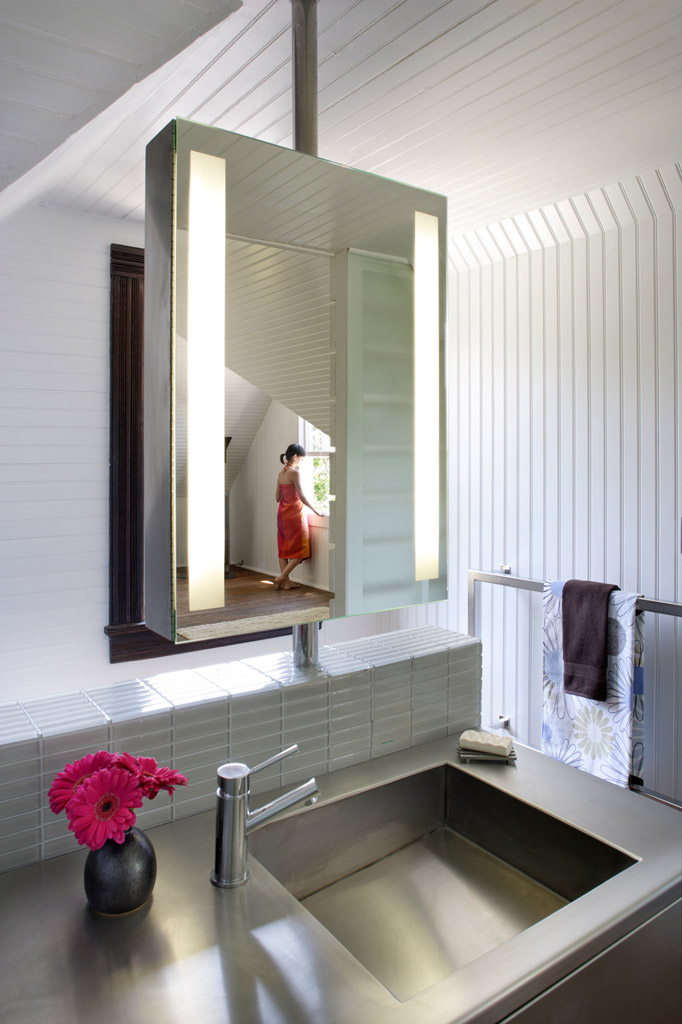 On the ground floor, which now contains a seating area, kitchenette, and bathroom, Stone refinished the original redwood floor planks as well as the siding that lined the walls. She was careful to differentiate old siding from new; the old siding was run vertically, so the new siding was run horizontally. On the second floor, which had served as the hay loft, Stone drew inspiration from austere yet bright Scandinavian interiors, painting the wood-paneled walls white.
Because the square footage within the carriage house is limited, Stone had to get creative to accommodate the updated program. She custom-fabricated several elements so they serve double-duty. For example, rather than try to find furnishings that would fit in the confines of the seating area, she designed built-in leather couches with an ottoman that swings out to add extra seating space or serve as a coffee table. Another custom element is the upstairs bedroom's headboard, which creates a privacy screen along the stair while allowing light to filter through.
In fact, lighting was one of the biggest challenges Stone faced in renovating the carriage house. Since she couldn't add openings that would alter the composition of the exterior facades, she had to amplify natural light and enhance it with artificial sources. Her strategy was to "use translucent materials to borrow light from one space to another." Cabinets in the kitchenette are outfitted with task lighting beneath and fixtures above that diffuse ambient light onto the ceiling. At night, when partitioned with sliding translucent panels, the kitchenette glows like a lantern. Stone also used translucent glass to divide the upstairs bathroom and bedroom, and horizontal wood slats provide privacy.
Stone was also tasked with creating a landscape design for the interior courtyard between the carriage house and the main residence. She oriented a new lap pool on axis with the main house's living room, and she installed a series of wood decks that echo the newly exposed rich wood of the carriage house's exterior. Concrete slab pavers, gravel, and patches of grass add texture and variation to this outdoor space.
Although carriage houses are now architectural relics from an era passed, Stone has made this particular example functional and relevant to modern life in Los Angeles.
Project Team: Tracy Stone, Donatella Cusma, Emmet Ashford-Trotter, Sameena Sitabkhan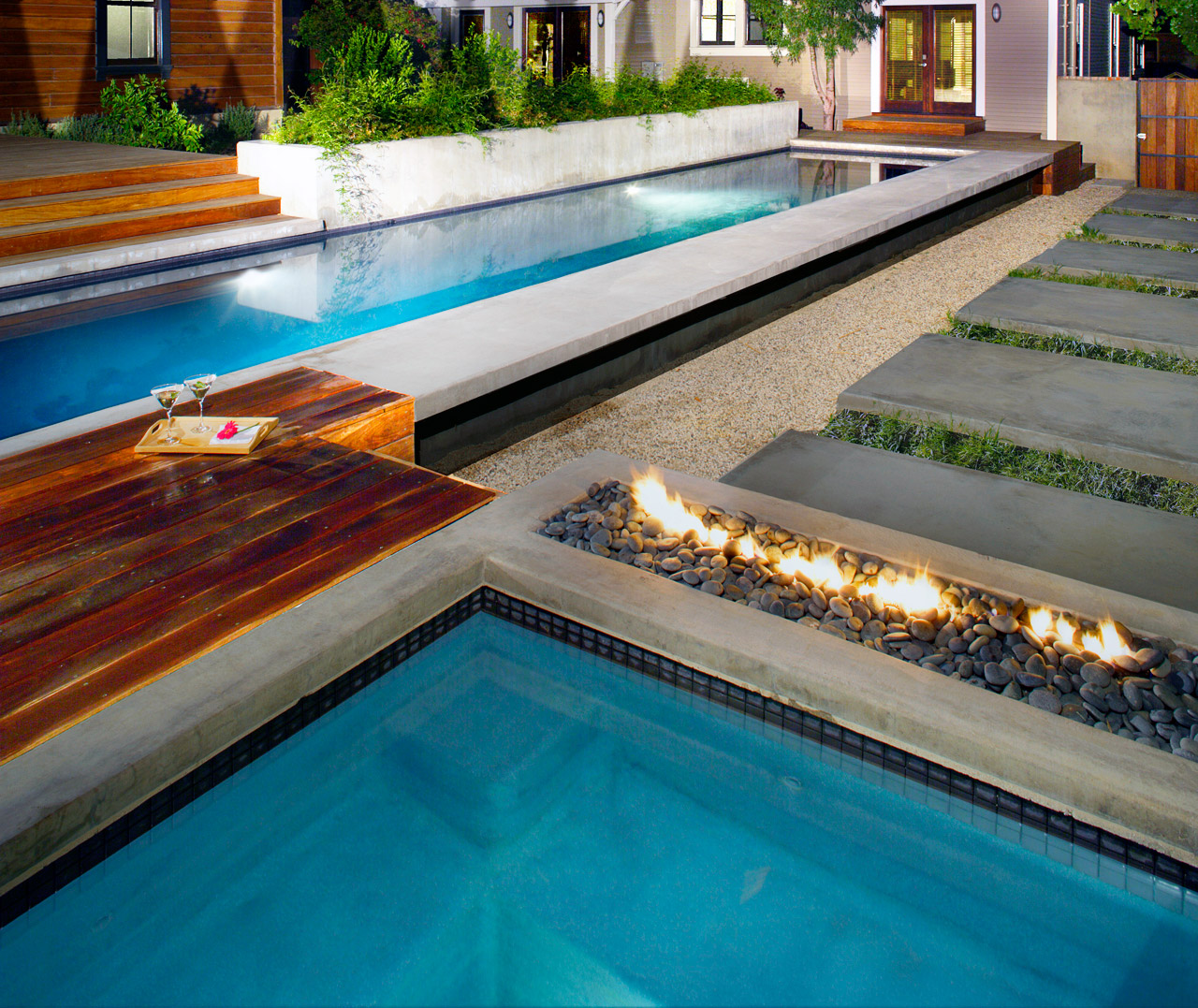 Murrye is a freelance writer based in New York City. She holds a Bachelor's degree in Architecture from the University of Arkansas and is a LEED-accredited professional. Her work has been published in Architectural Record, Eco-Structure, and Architectural Lighting, among others. She also serves as a contributing editor for the American Institute of Architects' New York Chapter publication, eOculus.
Website: www.murrye.com
Latest from Murrye Bernard