Ethylene-Propylene-Diene-Monomer Roofing
Ethylene Propylene Diene Monomer, better known as EPDM, is a common roofing material in the construction and building industry. In low slope roofing applications, EPDM is considered one of the three thermoset types of flexible single ply sheet materials. Chlorosulfonated Polyethylene (CSPE) and Polyisobutylene (PIB) are the other two types of roofing in the thermoset category.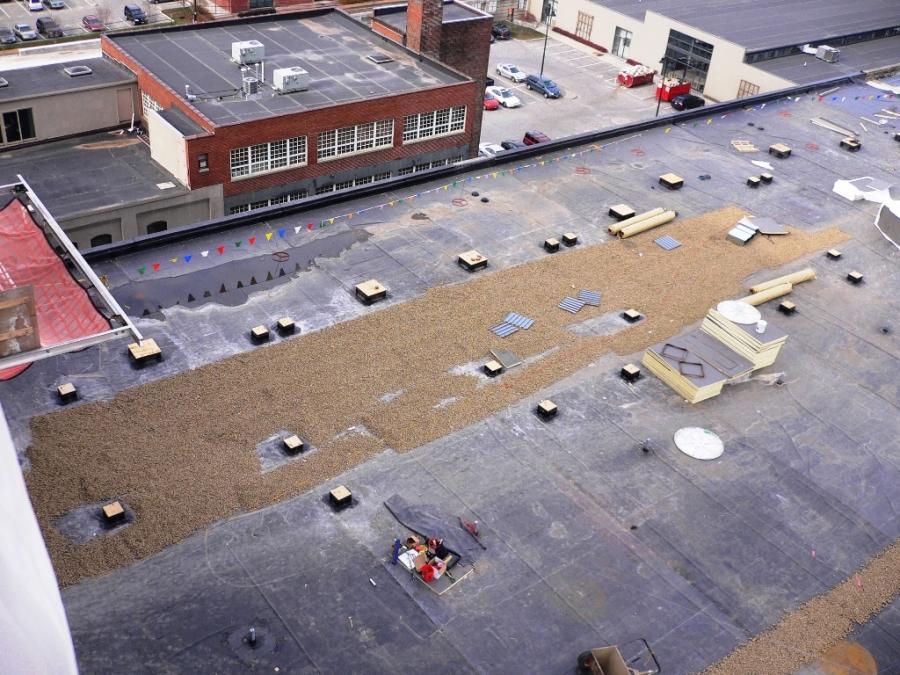 EPDM is an elastomeric compound (meaning it has elastic properties) blended of ethylene, propylene and a small amount of diene monomer. It is an excellent barrier against extreme temperatures and ultraviolet light, and is extremely resistant to puncture and/or penetration. However, it can be susceptible to the degrading effects of certain oils, gasoline, kerosene, solvents, cooking grease and animal fats. EPDM is inexpensive, straightforward to install, and clean to work with when compared to conventional built-up roofing systems. EPDM systems generally require less maintenance, and repairs are relatively easy to achieve.
In 1965, EPDM sheets were manufactured using EPDM polymers, carbon black, processed oil, zinc oxide and curing agents. Original formulations of EPDM experienced a high degree of shrinkage due to the use of oil as one of the major components. When the sheets were heated by the sun, the oil would exit the membrane, causing shrinkage. The chemical properties of EPDM were finally balanced by 1970, and EPDM became a satisfactory long-term material for roofing. EPDM membranes are now manufactured as either non-reinforced or reinforced, meaning the roofing membrane has been strengthened by polyester scrim mats or other reinforcing materials, and range in thickness from 30 mils (0.03") up to 90 mils (0.09"). Other industries and products that utilize EPDM rubber include the automotive industry, garden and appliance hoses, tubing, washers, belts, electrical insulation, pond liners and speaker cone surrounds.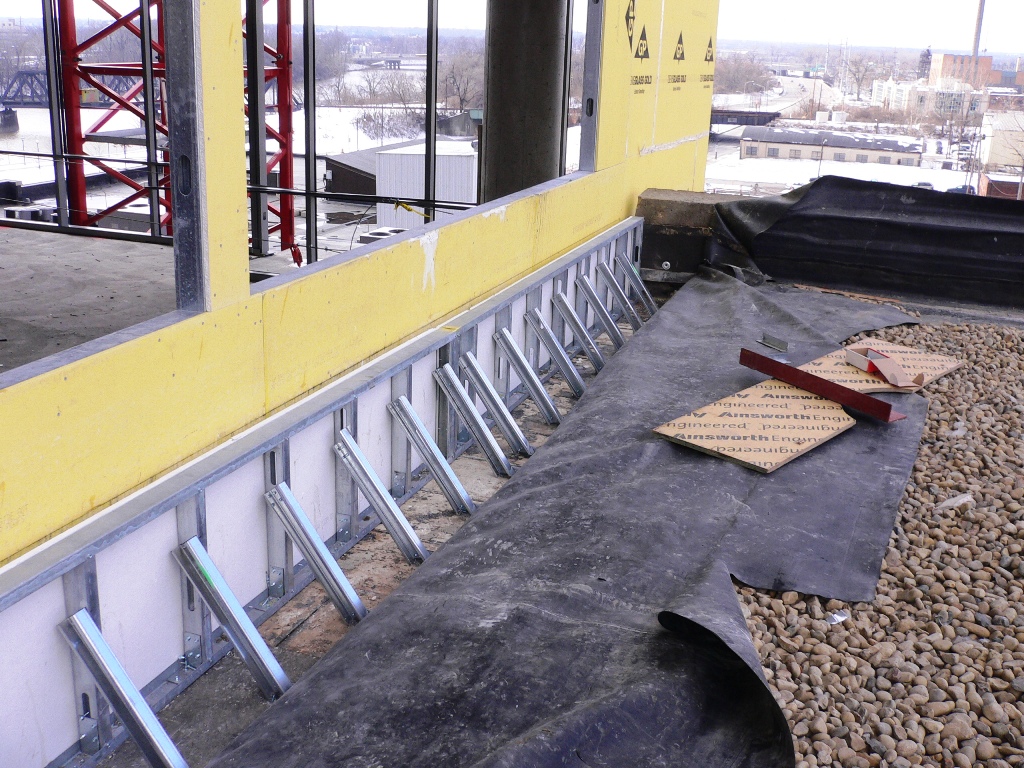 EPDM Design Considerations
As a design consideration, a minimum roof slope requirement may need to be met by certain manufacturers to achieve a warranty. Most building codes have a minimum slope requirement of 1/4" per foot (1.2 degrees). With regard to ballasted roof systems, the supporting structure needs to be able to carry the added load of the ballast, typically river rock or concrete pavers. This should be verified with a structural engineer prior to installation.
Typical installation methods of EPDM include loose-laid ballasted, mechanically fastened and fully adhered systems. Since there is no heat or open flame associated with the installation of EPDM roofing systems, they are generally considered safer and easier to install. A non-woven fleece backing, used to facilitate adhesion to the substrate, is also available from manufacturers. The seams along the edges of the EPDM sheets are typically adhered using a manufacturer supplied seam tape or a liquid adhesive.
Loose-Laid Ballasted
The weight of the ballast, be it river rock or concrete pavers, is what keeps the loose-laid EPDM membrane in place. This method of attachment is very simple but very effective. The perimeter and base flashings are typically the only areas that require attachment. River rock ballast typically ranges in size from 1-1/2" to 1-3/4". A majority of building codes require 1,000 lbs to 1,200 lbs of ballast per 100 square feet of roof. When using concrete pavers as roof ballast, they need to be a minimum of 18 lbs per square foot and are typically 2'-0" x 2'-0". Depending on the roof configuration and wind uplift requirements, additional ballast may be required at certain areas of the roof.
Mechanically Attached
Mechanically attached roofs rely on special fasteners with metal or plastic discs, which function similar to washers, to secure the EPDM membrane to the roof substrate. Manufacturers will specify the exact placement and quantity of attachments necessary to resist wind uplift. The fasteners and disks are later covered with membrane stripping.
Fully Adhered
Fully adhered EPDM systems use a continuous application of liquid-applied contact adhesive. With the addition of a fleece backing layer to the EPDM membrane, hot asphalt or low-rise polyurethane foam can be used in place of the liquid contact adhesive. Securement of the insulation or base sheet will need to meet any wind uplift requirements.

The Buildipedia research and writing staff consists of dozens of experienced professionals from many sectors of the industry, including architects, designers, contractors, and engineers.
Website: buildipedia.com/
Latest from Buildipedia Staff