What Does the Color of Your Door Say About You?
Are you an introvert with an orange front door? If so, you're sending mixed messages to your friends and neighbors. According to national color expert Kate Smith, you should try to match the color of your entry door with your personality to give guests a "preview" of the owner inside the home.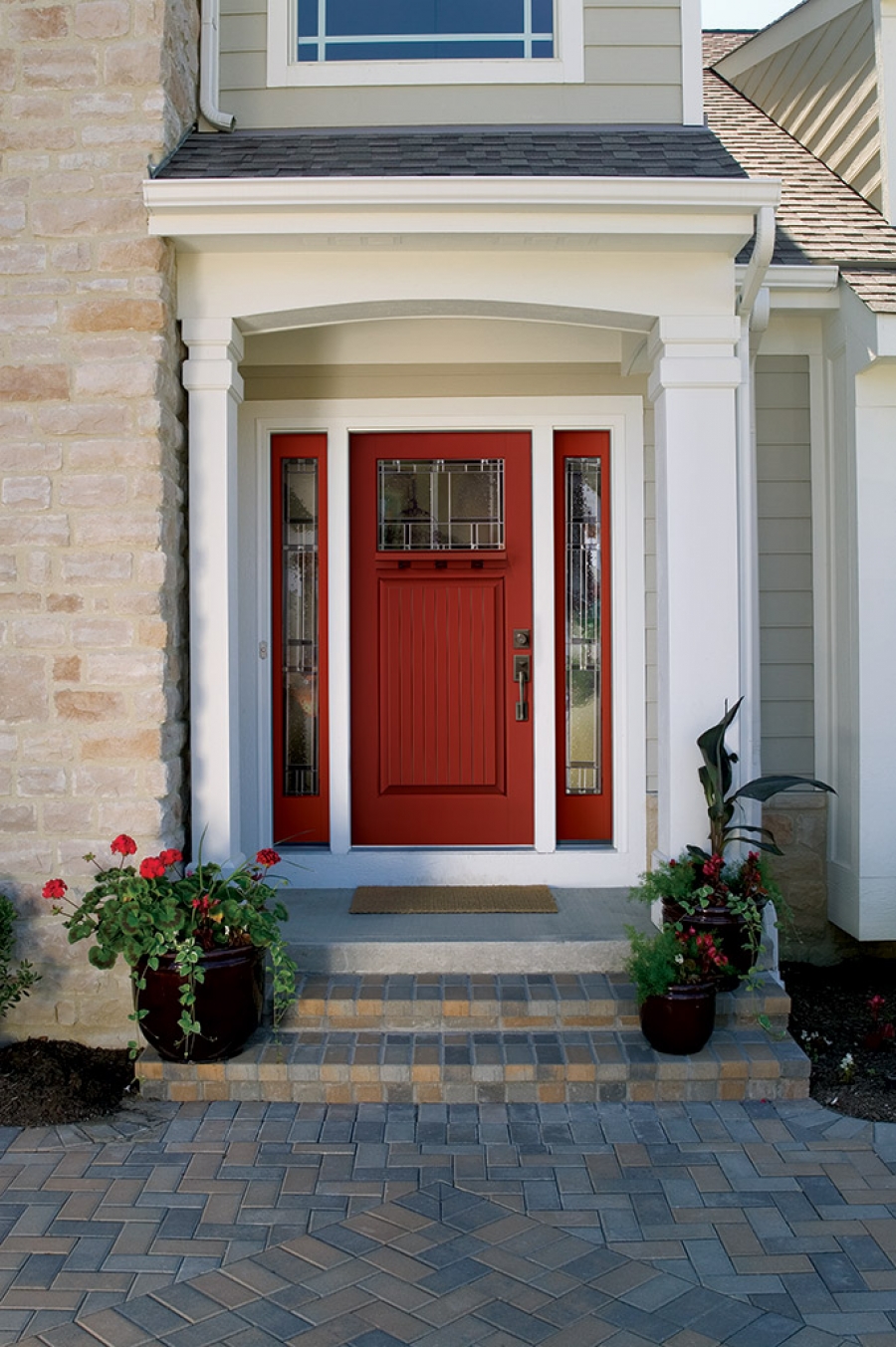 "An entry door painted a bold shade of orange says 'I'm friendly, fun-loving and enjoy getting together with people' so that's the color for an extrovert and perhaps not the best choice for someone who has a more reserved personality," says Smith, president and chief color maven of Sensational Color. "Since the front door is the key feature on a house that offers homeowners the most flexibility in color choice, this is a good place for people to let their personality shine through."
Smith suggests homeowners purchase smooth, paintable doors for their homes so they can select and add the color that best reflects their personality. "I love Classic-Craft® Canvas Collection® fiberglass entry doors from Therma-Tru," says Smith. "You can paint these doors any hue you wish to express yourself while quickly adding a colorful accent to your home."
According to Smith, here's a look at what different paint colors on entry doors of the home say about the occupants inside:
Red --- tells the world to "look at me!" This bright color says I'm not afraid of standing out or saying what's on my mind.

White --- says that I prefer things that are organized, neat and clean. Even if my home isn't always this way, I wish it were!

Green --- tells the world that you have traditional values and enjoy being a member of the community.

Black --- says I'm consistent, conservative and reserved in my manner as well as my approach to color. With a black door I'm saying my design style is timeless rather than trendy.

Blue – tells people you are naturally at ease in most situations and people are attracted to your easygoing personality.

Yellow --- says you have a personality similar to green, but a bit less traditional. You're most likely a leader or organizer of a group.

Purple --- reveals a "free spirited" person who is comfortable taking risks, thinking differently and dreaming big.
"Homeowners should remember they don't always have to go 'bright and bold' with color on their front doors to make a positive impression," says Smith. "Muted colors like sage green, colonial blue and copper sunset are all striking colors that enhance a home while showing your true colors.
"In my mind, the really terrific thing about having a paintable front door is the ability to change your door's color over time. You may start out with a conservative black door but transition over the years to more of a hunter green or ocean blue. Having the ability to paint your entry door allows you to update your home's exterior while sharing your evolving personality with the neighborhood!"
For more details on exterior colors on the home, visit http://www.thermatru.com/pdfs/SensationalColors.pdf to download a free copy Smith's 17-page FRESH Exterior Colors Guide that can help you select "top down" colors for the home's exterior.

Therma-Tru is the nation's leading manufacturer and most preferred brand of entryway doors. Founded in 1962, Therma-Tru pioneered the fiberglass entry door industry, and today offers a complete portfolio of entry and patio door system solutions, including decorative glass doorlites, sidelites and transoms, and door components. The company also offers low-maintenance Fypon urethane and PVC products. Headquartered in Maumee, Ohio, Therma-Tru is part of Fortune Brands Home & Security. (NYSE: FBHS). For more information, visit www.thermatru.com, www.fypon.com or call (800) 537-8827.