Therma-Tru Entry Doors Qualify for Federal Consumer Tax Credits
Homeowners interested in selecting an energy-efficient fiberglass entry door and possibly receiving up to $500 in federal tax credits can now do both by purchasing a Therma-Tru ENERGY STAR® qualified fiberglass entry door.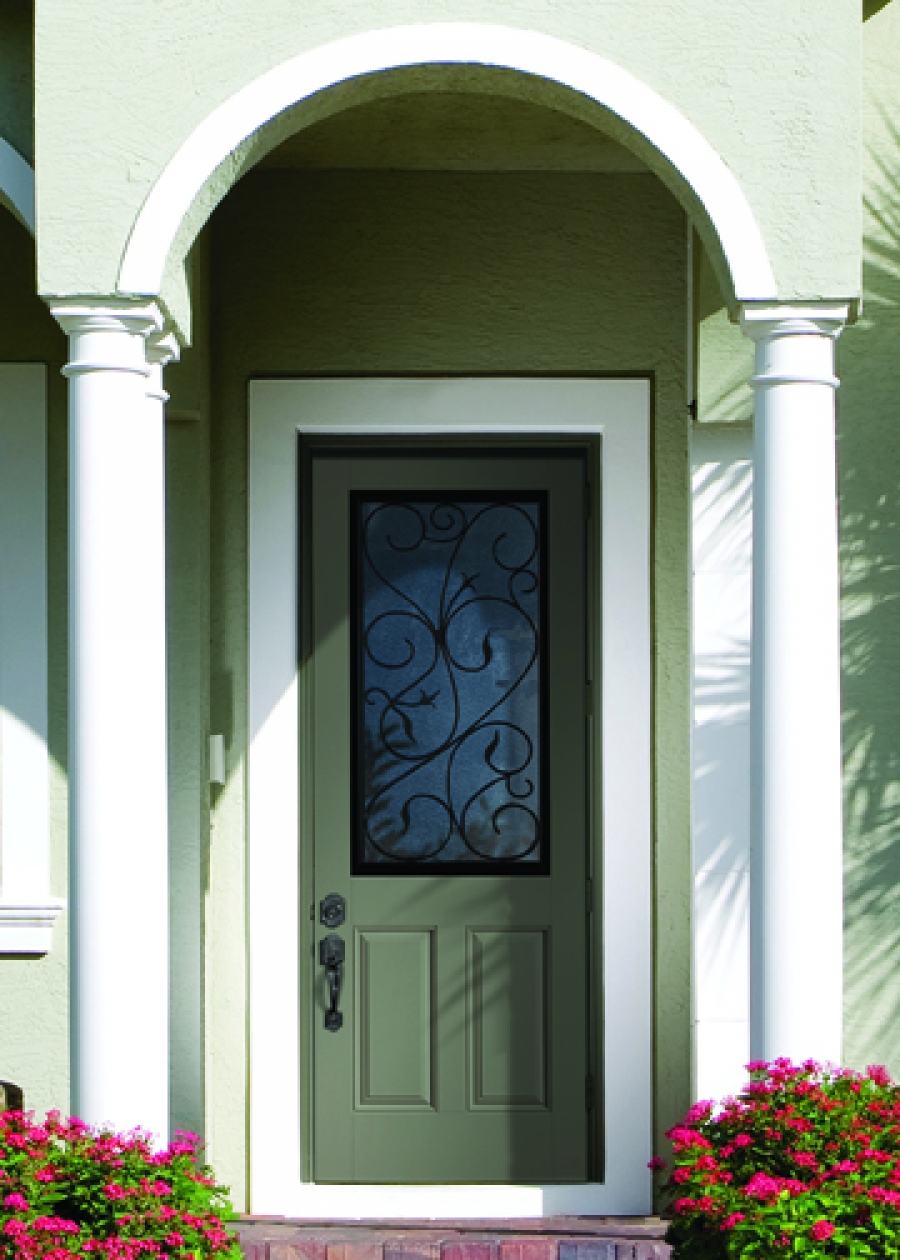 With the approval on January 1, 2013, of the American Taxpayer Relief Act of 2012, homeowners who made energy-efficient upgrades to their homes in 2012 or plan to make such changes in 2013 may receive a federal tax credit of 10% of the cost of the product, up to $500 for doors. Therma-Tru has added a special page to its website at www.myenergytaxcredit.com to provide consumers with details of the tax credit they can potentially receive when installing ENERGY STAR qualified fiberglass doors by Therma-Tru in their homes.
"Fiberglass doors are some of the most energy-efficient doors available in the marketplace today," said Derek Fielding, senior product manager for Therma-Tru Corp. "Compared to a solid wood door, a fiberglass door has four times more energy-efficient value. And, even with the addition of decorative glass like our new Arden™ and Lucerna® designs, the doors retain their ENERGY STAR rating due to the triple-pane construction of the glass panels that are installed into the Therma-Tru doors.
"Homeowners nationwide find that the benefits of fiberglass doors are plentiful. Along with their energy efficiency, they add tremendously to the curb appeal and aesthetics of a home. Installation of a new entry door also helps enhance the overall value of the home," Fielding said.
Fielding points out that fiberglass entry systems can come in 6'8" and 7'0" door styles, along with 8'0" doors and sidelites, such as those found in the Classic-Craft® Canvas Collection® product line. The premium smooth-finish fiberglass doors are ideal for painting and have been rated a Consumers Digest® "Best Buy" for fiberglass entry doors.
Classic-Craft doors are known for their architecturally correct proportions with up to 25% wider panels, deep embossments, and solid hardwood square edges. Doors in this product line feature 20% heavier construction, thick fiberglass skins, and top and bottom composite rails. Matching fiberglass lite-frames come with this series, along with 4 1/8" wide full-length lockstiles for added weight and rigidity.
"The really good news about this tax credit is that it qualifies for both replacement doors on a principal residence and for the installation of a new door in the home where there previously wasn't an opening," said Fielding. "So, if you're planning an addition to a home or doing a major remodel, the ENERGY STAR qualified door you purchase may be eligible for the tax credit."
ENERGY STAR Qualified Doors
More than 94% of Therma-Tru fiberglass and steel entry doors qualify for the ENERGY STAR label and all Therma-Tru doors are certified by the National Fenestration Rating Council (NFRC).
By checking the Therma-Tru website, homeowners can easily determine which doors meet ENERGY STAR qualifications. By visiting the easy-to-use Dealer Locator, homeowners can find the closest Therma-Tru retail location.
The information on the Therma-Tru website helps homeowners understand the new federal tax credits and provides the Manufacturer's Certification Statements that are needed (along with the homeowner's original product receipt) to claim the federal tax credit.*
The federal tax credit is retroactive to purchases made starting January 1, 2012, and expires on December 31, 2013. Installation of the product(s) must take place in the homeowner's principal residence, and the credit does not include installation costs. Products must be ENERGY STAR qualified for the region in which they are installed.
To apply for the credit, a homeowner must have a copy of the original product receipt and a Manufacturer's Certification Statement. Full details on the federal tax credits can be found at the ENERGY STAR website.

Therma-Tru is the nation's leading manufacturer and most preferred brand of entryway doors. Founded in 1962, Therma-Tru pioneered the fiberglass entry door industry, and today offers a complete portfolio of entry and patio door system solutions, including decorative glass doorlites, sidelites and transoms, and door components. The company also offers low-maintenance Fypon urethane and PVC products. Headquartered in Maumee, Ohio, Therma-Tru is part of Fortune Brands Home & Security. (NYSE: FBHS). For more information, visit www.thermatru.com, www.fypon.com or call (800) 537-8827.