Therma-Tru Helps MainStreet America® Open Its Doors
When the new MainStreet America® park in Houston opened its doors in February of 2013, it was Therma-Tru fiberglass entry doors that many visitors to the park walked through. Therma-Tru, the nation's leading manufacturer and most preferred brand of entry doors, has partnered with MainStreet America to showcase its energy-efficient fiberglass doors in four of the park's 12 show homes.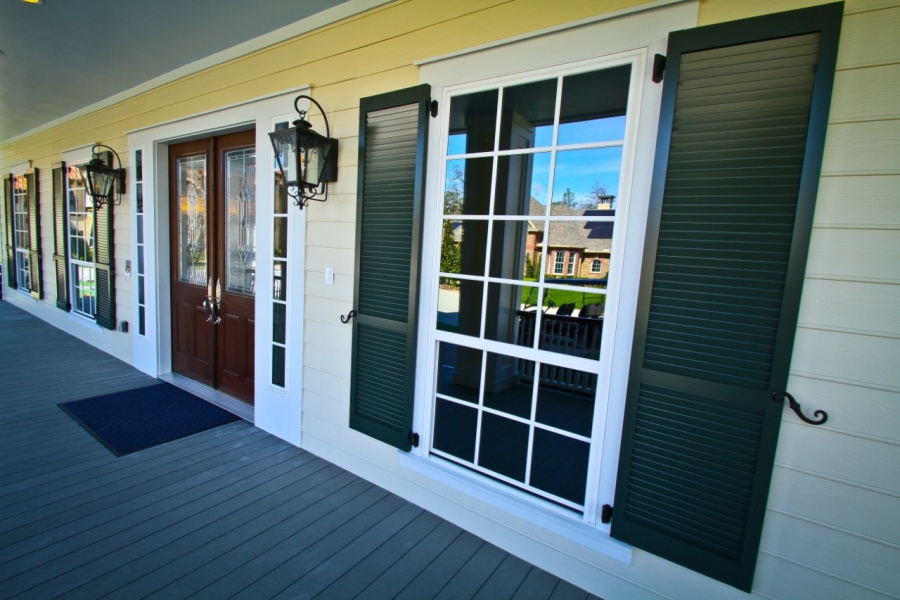 Located on a 14-acre site, the innovative park features a dozen fully appointed showcase homes representing many of the home styles and architectural features found across America. Homes in the interactive park range in size from 1,800 to more than 4,000 square feet each. Visitors can stroll throughout each demonstration home gaining inspiration and information by using a hand-held electronic TED (Technological Education Device). TED can instantly scan a programmed product tag on thousands of items in the park and immediately provide visitors with buying information and special features.
Within the first-of-its-kind theme park, Therma-Tru has provided the following entry doors:
The Alexandria House (featuring Greek Revival architecture) – Therma-Tru® Classic-Craft® Rustic Collection™ entry door with Provincial™ decorative glass. Doors in this collection have the look of real wood grain, and the handcrafted look found with true artisans. Made with Therma-Tru patented AccuGrain® technology, this door has the look of high-grade wood, but with all the durability of fiberglass. These doors resist splitting, cracking and rotting.
In addition to the main entry door, there are six Therma-Tru® Smooth-Star® door systems in this home featuring eight-foot-tall doors.
The Centennial House (featuring Craftsman Style architecture) – Therma-Tru® Fiber-Classic® Mahogany Collection™ entry door in a Craftsman style with Sedona Art Glass and matching sidelites and transoms. This entry door resists cracking, splitting, splintering and warping like wood. The home will benefit from the durable and stylish look of the door.
The rear door on this home is a Therma-Tru Smooth-Star door system with raise, lower and tilt mini blinds.
The Cross Creek House (featuring Texas Hill Country architecture) – Therma-Tru Fiber-Classic® Oak Collection™ entry door with Saratoga™ glass and black nickel caming. Economical and aesthetically appealing, this door sets the standards for today's fiberglass entry doors.
Two Therma-Tru Smooth Star door systems also are incorporated into this home.
The Midtown House (a Contemporary Townhome design) – Therma-Tru Smooth Star eight-foot tall door with Low-E Glass for all five entrances in the home. With the Smooth Star door homeowners get the look of fine painted wood and the strength of steel. An excellent value in a fiberglass entry door, this unit is made of rugged compression-molded fiberglass. The stylish yet durable door resists the dents and dings of day-to-day traffic and will never rust or corrode.
"The unique concept of creating a theme park focusing on home designs, products and inspirational home messaging is very appealing for homeowners," says Brad Johnson, vice president of marketing at Therma-Tru Corp. "This park gives people the chance to dream, find new products for their homes and be inspired to make changes to their future living spaces. We're extremely pleased to participate in the MainStreet America project and look forward to meeting visitors at the park who are interested in enhancing their homes with fiberglass doors."
In addition to touring the show homes, visitors at the park can participate in how-to workshops and demonstrations, seasonal activities and meet with on-site building industry professionals, mortgage companies and interior designers. MainStreet America is scheduled to open in mid-February 2013. For additional information on the park, visit www.mainstreetamerica.com.

Therma-Tru is the nation's leading manufacturer and most preferred brand of entryway doors. Founded in 1962, Therma-Tru pioneered the fiberglass entry door industry, and today offers a complete portfolio of entry and patio door system solutions, including decorative glass doorlites, sidelites and transoms, and door components. The company also offers low-maintenance Fypon urethane and PVC products. Headquartered in Maumee, Ohio, Therma-Tru is part of Fortune Brands Home & Security. (NYSE: FBHS). For more information, visit www.thermatru.com, www.fypon.com or call (800) 537-8827.