Homeowners contemplating a new entryway are looking for more than just an aesthetically appealing front door --- they're seeking high performance and security. Fortunately, with the new generation of fiberglass doors from Therma-Tru, they can have them both.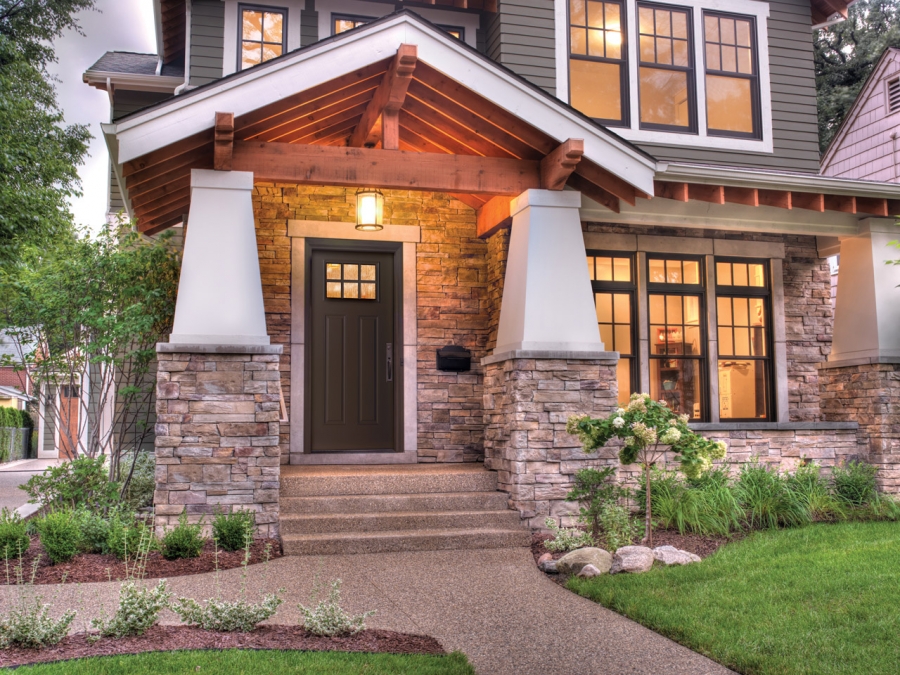 Constructed as a complete system of components, Therma-Tru doors are designed and engineered to work together for lasting performance, security, and energy efficiency. Multi-point locking systems that engage a series of locks at several places on the frame, impact-rated decorative glass options, plus the adjustable security strike plate, which withstands three times the force of a standard strike plate, are key factors in creating Therma-Tru's dependable entry door system.
Homeowners looking for durability in their doors can also rely on the Tru-Defense® Door System. This system maximizes the seal between the door and the frame to help keep out the damaging effects of wind and rain while increasing energy efficiency. Within this optional upgrade system, the weatherstripping, corner seal pad, door bottom sweep, and profiled sill all work together to provide a door system that can withstand severe weather conditions along with day-to-day family activity.
Designer Door Elements
To meet homeowner desires for durability and beauty, Therma-Tru has enhanced its Fiber-Classic® Oak Collection™ to include more high-definition embossments, more aesthetically pleasing designs, and a wider variety of decorative glass options. The Collection's natural warmth and rich oak graining provide great value in comparison to premium wood doors with the added benefits of fiberglass. In addition, the Fiber-Classic Oak Collection now includes vented sidelites that allow light and fresh air into the home.
"A door is a thing of beauty, and beauty should endure. The true beauty of a fiberglass door is that it has a stunning appearance while being crafted with incredible strength, energy efficiency, and low-maintenance features," says Mark Clement, contractor and host of the MyFixItUpLife home improvement radio show. "With fiberglass you get a door that you'd swear looks just like wood, plus you also get maximized energy efficiency, stability, and super-low maintenance aspects."
Homeowner Desires
In a "crystal ball" question asked in a research study in 2008, Therma-Tru discovered that the entry door characteristics that homeowners believed would become most important in the future were "safe and secure entryways that resist forced entry" and "insulating the home from changes in outside temperature." The study results also showed that homeowners were eager to obtain the optimum combination for their entryways of security, energy efficiency, performance, and aesthetics.
"That research was a perfect indication of where homeowner buying considerations have headed in the past several years," says Clement. "Security and energy efficiency continue to grow as top selling features of doors. It's really hard to beat fiberglass when it comes to these important features."
Many of the features Clement and other homeowners appreciate about fiberglass doors simply cannot be found in wood doors. The limitations of energy efficiency, combined with the ongoing maintenance hassles of wood doors, have made their desirability nearly extinct.
"My family is the perfect case study example of today's homeowners," says Clement. "We're renovating an older home, and its original door doesn't deliver the energy efficiency and low maintenance a modern home needs. Every winter I feel the cold coming in; every summer I feel air conditioning going out. I'm really looking forward to sealing – and beautifying – our home."
The Case for Durability
According to a different study conducted by Therma-Tru's market research division, a high percentage of surveyed homeowners say they would pay more for a higher-performing door. They view the purchase of the right door as an investment in their homes.
"More than 80% of those surveyed would be willing to pay more for a door with stronger thermal insulation and/or additional security features," says Brad Johnson, vice president of marketing for Therma-Tru. "Additional features homeowners would be most willing to invest additional dollars in for an entry door include a maintenance-free finish, rot resistance, air infiltration benefits, and low maintenance. These are all clearly features of fiberglass entryways."
Support for the Therma-Tru survey results comes in the McGraw–Hill "Repair and Remodeling: Residential Exterior Doors" homeowner study conducted in late 2009 and early 2010 on brand and consumer preference for entry doors. In that study, the features considered most important by consumers in entryway selections are durability, energy efficiency and security.
"Year-after-year homeowners are increasingly telling us they want their entry doors to offer them outstanding performance," says Johnson. "That's what has led so many consumers to research the multiple benefits of fiberglass doors and make the change from their existing inefficient entryways to high-performing fiberglass doors with improved style and appearance."
For a comprehensive chart comparing the features of fiberglass doors to steel and wood doors, visit http://www.thermatru.com/design-innovation/advantage/fiberglass-steel-comparison/.

Therma-Tru is the nation's leading manufacturer and most preferred brand of entryway doors. Founded in 1962, Therma-Tru pioneered the fiberglass entry door industry, and today offers a complete portfolio of entry and patio door system solutions, including decorative glass doorlites, sidelites and transoms, and door components. The company also offers low-maintenance Fypon urethane and PVC products. Headquartered in Maumee, Ohio, Therma-Tru is part of Fortune Brands Home & Security. (NYSE: FBHS). For more information, visit www.thermatru.com, www.fypon.com or call (800) 537-8827.